FAST Saturdays
Year-round Youth Programs
FAST stands for Fun Activities and Skills Training. This program will meet the second Saturday of each month throughout the school year. Some Saturdays we will simply focus on having fun as we develop skills. Other Saturdays we will participate in a variety of challenge recreation activities.
You won't want your kids to miss it!
Summer Youth Programs
There's nothing else like it!
One of the most compelling reasons to attend the Colorado Center for the Blind is the unique atmosphere among staff and students. The warm, supportive environment creates opportunity for fun and a new outlook on life. Students from across the country and around the world share ideas with staff to make the program dynamic.
In addition, Students in our Summer Youth Programs participate in many activities including technical rock climbing, hiking, canoeing, white water rafting, self-defense and more.
Check out the Summer Youth Video to get a real flavor for the Summer Program:
Skills + Confidence = Success!
The Summer Youth Programs at the Colorado Center for the Blind are designed to provide students with the opportunity to obtain skills needed to achieve success in school, interact with peers in a variety of social situations, gain a knowledge of the working world, and build self-confidence and self-esteem. Students participate in extracurricular activities in addition to our core classes of Braille, Cane Travel, Computer Technology, Home Management and Blindness Philosophy.
Classes and activities give students full belief in themselves as blind people. We offer specialized instruction to meet the individual needs of each student. Students have the opportunity to work with a dynamic staff who are themselves competent blind people.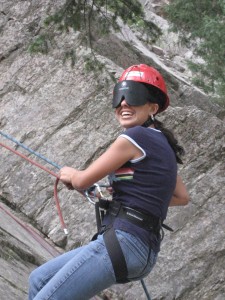 Students will experience:
Living in apartments with counselors and peers
Independent travel in a variety of settings
Instruction in cooking, meal planning, cleaning, and shopping using a courtesy clerk
Budgeting and personal financial management
Confidence building during challenge recreation activities
Age appropriate social activities
Career exploration and job shadowing successful blind adults
Training and assessment on the latest adaptive technology
learning to work with college disability services offices
finding accessible textbooks
managing onling learning management systems
Leadership development
Developing a positive philosophy of blindness
Confidence Camp for Kids, Elementary School Program
Dates & Applications for 2019 Confidence Camp Program will be available in early 2019.
This three-week-long day program serves children aged five through eleven who live in the Denver metro area. It begins at the end of school in June each year. In addition to the four core classes, students will prepare lunch each day and focus on household chores like making the bed, vacuuming, washing dishes, and sweeping. Not only will the students work on building their skills but, even more importantly, they will gain confidence in themselves by participating in many exciting activities such as swimming, hiking, picnicking, and going to an amusement park.
Get a taste of the fun, the learning and the great energy from our Confidence Camp Video!
Initiation to Independence, Middle School Program
Learning about independence by meeting blind people in a wide variety of jobs and experiencing all aspects of what it's like to live in your own apartment – how exciting is that? Students who attend the Initiation to Independence Program need to be 12 to 14 years old.
Earn and Learn, High School Program
What could be better than earning a paycheck? … Besides spending it, that is! To prepare for your exciting job we will teach you how to develop a resume, interview and "dress for success!" An exciting highlight of your summer will be traveling with us to attend the convention of the National Federation of the Blind – an annual gathering of mearly 3,000 blind people from across the United States and around the world.
Summer for Success, College-Prep Program
Take control of your college experience! At the Colorado Center you will learn how to handle visually oriented classes, take tests, write research papers, and enjoy a wide variety of social activities. You will learn how to easily find classrooms, libraries, and surrounding areas so that you will feel confident navigating a campus of any size, in any setting. An exciting highlight of your summer will be traveling with us to attend the convention of the National Federation of the Blind.
For More Info
on all of our Youth Programs, Contact:
Brent C. Batron
Director of Youth Programs
303.778.1130, ext. 222
email: [email protected]