Founded in 1988, the Colorado Center for the Blind is a world-renowned training center located at the foot of the Rocky Mountains in Littleton, Colorado, about 13 miles south of Denver.
Grounded in the National Federation of the Blind's positive philosophy of blindness, the Colorado Center for the Blind provides innovative teaching techniques, daily challenges and self-confidence that are the building blocks of independence, opportunity and success. Day after day, year after year, blind students leave the Colorado Center for the Blind's training program as living examples of the NFB's motto: "With effective training and opportunity, blind people can compete on terms of equality with their sighted peers."
See photos of our programs in action!
Get Involved!
Photos from Previous Events:
See photos of our previous events!
top
Up
Latest News …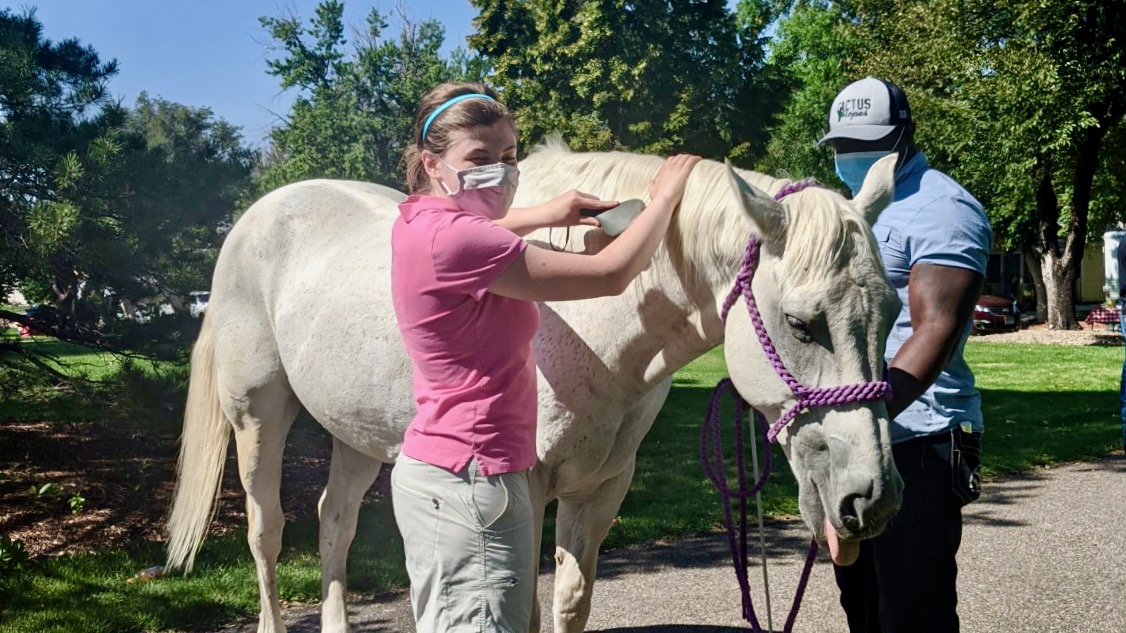 Monday August 3 students and staff at the Colorado Center for the Blind met up with members of the Arapahoe County Sheriff Offices Mounted Unit at nearby Sterne Park. When Lt. Rich Anselmi, the unit's commander first contacted Executive Director Julie Deden a while back about planning something together, Julie immediately reacted that it sounded like a lot of fun. She probably meant it would be fun for the students, too.
Four deputies, all members of the Mounted Unit, and about 20 volunteers were on hand with eleven horses, two of which were miniatures and one a small pony. Students and staff all got up close with one of the horses to learn about the animal and the basics of grooming, which usually requires three different brushes. For some, it was like renewing old acquaintances, while other students had never encountered a live horse before. And it was a great opportunity to get to know members of the Sheriff's Office. It's been a strange summer for us without our traditional summer youth programs, no opportunities like whitewater rafting or rock climbing on the immediate horizon, so the activity was a welcome twist on learning blindness skills and taking on new challenges.
And Julie was right – it was fun!
"All of my people loved working with your folks," said Lt. Anselmi. "My folks were very complimentary of the students' eagerness to learn and we were all so impressed with their ability to do so much! You all have a very impressive and professional organization. We feel like we benefited and learned at least as much today as your students did. We are very much looking forward to working with the students and staff at the Colorado Center for the Blind again!"
Well, that's definitely a fair exchange! Thanks to Lt. Anselmi and the other deputies and all the volunteers. here's to the next time we meet!
top
Up
top
Up
Our Programs
Our Independence Training Program (ITP) is designed for blind adults (18 years of age and older). Typically students complete the program in six to nine months while residing in nearby McGeorge Mountain Terrace apartments, which are owned by the Center. Participants not only build the skills that they need to be independent, but also focus on gaining confidence and belief in themselves as blind people
Program Areas
Additional Rotating Classes
Art
Career Exploration
Gardening
Resume Writing
Martial Arts
Sewing
Yoga
✓ Contact us for more information or to learn how to participate in our program
top
Up
Youth Programs Video
FAST stands for Fun Activities and Skills Training. This program will meet the second Saturday of each month throughout the school year. Some Saturdays we will simply focus on having fun as we develop skills. Other Saturdays we will participate in a variety of challenge recreation activities.
No Limits to Learning
The World of Work
✓ Contact us for more information or to learn how to participate in our program
top
Up
Senior Programs Video
The Colorado Center for the Blind works to change the experience of older blind and visually impaired persons from frustration to independence. With education and training seniors can and do obtain the skills and confidence necessary to stay in their own homes and continue be contributing members of their communities.
✓ Contact us for more information or to learn how to participate in our program
top
Up
See photos of our programs in action!
Our Professional Training Seminars include information about causes of blindness, alternative techniques used successfully by blind people, an introduction to sleepshades and their use with a white cane or in preparing lunch, and we spend time talking about the myths of blindness as well.
✓ Contact us for more information or to learn how to participate in our program